In Memory
Delores Andrews (Edmonds)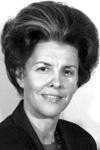 Delores passed away at her residence on September 19, 2006 after a courageous battle with cancer. During her working career she worked for Allen, Rundle and Golightly CPA Firm for 20 years.
She, along with her husband, the Rev. Encil Edmonds, felt the call to the ministry. Together they worked as a team, starting in the diversified ministry known as the Tri Cities Ministry in the Sheffield, Ala., area, where she was very active in the music department. Together they spent 15 years working in this ministry. They came to Paducah and became the senior pastors of the Gospel Assembly Church of Paducah, where together they have served the church for 25 years.
Besides her husband of 42 years, the Rev. Encil Edmonds, she leaves behind her mother, Margie Cargill Andrews of Paducah; her two brothers, Wayne Andrews and his wife, Betty, of Paducah, and John Spears of Benton; and many neices, nephews and cousins, one of which is our classmate, Earline Green Wurth.