In Memory
Robert Asbell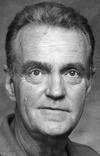 Robert Asbell, age 63, of Paducah lost his fight with cancer with his family by his side on Friday, March 30, 2007, at 9:48 p.m.
Mr. Asbell is survived by his daughter, Dawn (Asbell) Bezzina of Youngsville, N.C.; son, Hardy Asbell of Rolesville, N.C.; his mother, Mildred Asbell of Paducah; his brother, Frankie Asbell of Paducah; his sister, Joan Garrett of Cumming, Ga.; and two grandchildren, Jeffrey Asbell and Christopher Asbell, both of Rolesville.
Born Jan. 25, 1944, Mr. Asbell was employed for 35 years at Caterpillar Tractor Company in Aurora, Ill., and was a member of the local U.A.W. He was an avid gardener who loved to be outdoors and a skilled craftsman who could build anything.