In Memory
Russell Banks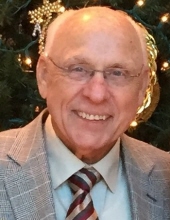 Obituary
Russell Banks, age 75, of Paducah, Kentucky passed away on Thursday, November 19, 2020 at Mercy Health-Lourdes Hospital.

Mr. Banks was born in Paducah on May 4, 1945 to the late Marvin and Juanita Banks. He worked for 35 years for AT&T and retired as a Service Technician. He was a veteran of the United States Army and served our country during the Vietnam War. He shared many stories throughout the years of his time as a door gunner and gave his grandson Wes an interview about his service. He taught his family such respect for those who served our country. He also enjoyed delivering for G & O Pharmacy for 10 years. He was well-loved by his co-workers and faithful customers. Along with their medicine, he was known to bring a smile, prayer, conversation or whatever was needed at the time.

Russell was an active member of First Baptist Church of Paducah. He loved his church family and Sunday school class. He could be found happily serving popcorn at Upward Basketball, fall festivals and other church events. He set an example with his humility and strong faith in Jesus Christ. He became a believer at the age of 12 and was baptized in 2016 by his son Rusty in the ocean at Cape San Blas, Florida. It was a joyful moment and he was so proud to follow through in obedience. A cherished memory is seeing him lift his hands in worship to the Lord.

He was a faithful husband and enjoyed traveling throughout the year with his wife. He especially loved the beach and meeting new friends while there. They were dance partners for life and always stole the show at weddings, including the recent wedding of their grandson Tevin.

Russell was a dedicated father & he enjoyed many years of coaching his sons and cheering them on in sports. He led his family well and taught his sons to work hard. He loved them unconditionally. He became an extremely proud "Paps" to 6 grandchildren and told everyone about them and their accomplishments is sports, cheerleading, and music. He loved spoiling them at Christmas with their own special stockings and you could always find him giving them a ride in his golf cart or relentlessly teasing them.

He loved to spend a day playing golf and especially enjoyed a round with his brothers. In other free time, he loved days on the lake with friends and traveling to visit family and friends. His love for family ran deep and he cherished his time with every family member. Russell will be remembered as bringing so much joy to others. He was fun and active and enjoyed life to the fullest. He was always whistling a tune and his smile was contagious.

Russell is survived by his wife of 53 years, Selah Pugh Banks; two sons, Rusty (Kelley) Banks of Paducah and Terry Banks (Jennifer Pierce) of Paducah; five sisters, Sharon Luchesi of Paducah, Phyllis Galindez (Joe) of Paducah; Linda Neihoff (Billy) of Metropolis, Illinois, Janie Hiett of Paducah, and Dana Estes (John) of Benton; sister-in-law, Rosie Banks of Paducah; three brothers, Morris Banks (Mary) of Ledbetter, Billy Banks (Liz) of Paducah and James Banks (Tamara) of Paducah; six grandchildren, Weslan Banks, Ethan Banks, Canaan Banks, Tevin Banks (Lauren), Caitlyn Banks and Hayden Banks; and several nieces and nephews.

He was preceded in death by his parents; two sisters, Eula Mae Bass and Joyce Banks; and one brother, Herbert Banks.

In compliance with health and public safety directives, the funeral arrangements for Mr. Banks will be private. Milner & Orr Funeral Home of Paducah is in charge of arrangements.

Expressions of sympathy may take the form of donation to: Kings Arrows (his grandson's band) First Baptist Paducah, 2890 Broadway St., Paducah, KY 42001 or a charity of your choice.
https://www.milnerandorr.com/obituaries/obituary-listings?obId=19034902&source=fb1&fbclid=IwAR1ZWx3gy_PEmIQht6mfVVIqVl6D2M4T5nRhnyis8ZTcwOFKHtE7JGYW_h