In Memory
William Bill Black VIEW PROFILE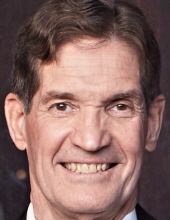 William Ray Black Jr., age 71, of Paducah, KY, died Saturday, March 18, 2017 at his home.

Mr. Black was born September 30, 1945 in New York City to William Ray Black and Virginia Giblin Black. Bilgraduated from Paducah Tilghman High School in 1963 and attended Princeton University on a NROTC Scholarship. He graduated in 1967 with a degree in History and was commissioned a 2nd Lieutenant in the U.S. Marine Corps. He served two tours in Vietnam, where he earned a Bronze Star for meritorious service and two Purple Hearts. He completed his service to the Marines in 1971, having attained the rank of Captain. Following his service in Vietnam, Bill returned to his hometown of Paducah, and joined his father and grandfather in the family construction business at Ray Black & Son. Bill recognized that a community's architectural and historic heritage was a source of beauty and diversity and knew these treasures were non-renewable resources. He specialized in historic preservation throughout his career. Among his preservation projects were: Whitehaven, The River Discovery Center, and many other historic buildings in Paducah. In the late 1970's he was an original visionary for the creation of the 26 square block Lower Town Neighborhood National Register District. Bill became the Scoutmaster of Boy Scout Troop 1 in 1985 and kept the historic troop from losing its charter as one of 7 original troops in the U.S. The troop grew to more than 70 scouts, from all backgrounds, under his leadership. Bill served on the Paducah Independent School Board for 24 years. He was a passionate lepidopterist, archaeologist, and collector of all things he found interesting.

He is survived by his wife of 44 years, Nancy Fowler Black; three sons, William Ray (Will) Black III and his wife, Sarah Maggos Black, David Dawson Black and his wife, Lindsay McMaster Black and Merle Fowler Black and his wife, Emily Yocum Black; five grandchildren, Liam Black, Dawson Black, Sasha Black, Ford Black and Nolan Black. He is also survived by his sister, Virginia (Ginny) Black Coltharp and her husband James Richard (Rick) Coltharp and his brother, Christopher James Black and his wife, Nancy Williams Black.

He was preceded in death by his parents and his brother, David Bruce Black.

Funeral Services will be held at 10:00 am on Thursday, March 23, 2017 at Grace Episcopal Church with Rev. Charles Uhlik and Rev. Tim Taylor officiating. Burial will follow at Mt. Kenton Cemetery.

Visitation will be held Wednesday, March 22, 2017 from 4 p.m. until 7 p.m. at Grace Episcopal Church.

Milner & Orr Funeral Home and Cremation Services of Paducah is in charge of arrangements.

In lieu of flowers, expressions of sympathy may be made to: Paducah Public Schools Foundation, Inc., P.O. Box 2550, Paducah, KY 42002 or Paducah Cooperative Ministry, 402 Legion Dr., Paducah, KY 42003.

Click here to see William Bill's last Profile entry.