In Memory
Richard Brown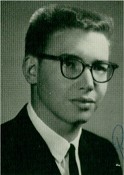 Richard (Rick) Bauer Brown, 61, of Paducah, Ky., died at 11:15 p.m. Saturday, January 21, 2006, at Western Baptist Hospital after a courageous battle with cancer.
Rick was born October 11, 1944, in St. Louis, Mo. He resided in Paducah for the past 46 years. Rick received his B.S. from Murray State University in 1971 in Business Administration. He was a United States Army Vietnam veteran. Rick was involved in the furniture business for many years, employed in management for Fleming Furniture for the last 16 years.
Rick was a member and a past president of the Paducah Lions Club. He served as chairman of the WPSD Telethon of Stars in 1986. Rick was a member of Immanuel Baptist Church.
He is survived by his wife, Carol Bennett Brown; a son, Christen (Casey) Bauer Brown of Ledbetter, Ky.; a daughter, Holly Elizabeth (Shawn) Coleman of Venice, Fla.; a grandson, Bennett Wood Coleman of Venice, Fla.; two brothers, Ronald (Alicia) Bryson Brown of Mayfield, Ky., and Donald (Rita) Logan Brown of Paducah, Ky.