In Memory
Patricia Patty Louise Jones (Turner)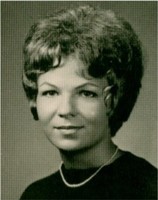 Patty Jones Bowland Michelson Turner


Friday, June 06, 2008

Services for Patty Jones Bowland Michelson Turner, 62, of Paducah will be at 11 a.m. Saturday, June 7, 2008, at Lindsey Funeral Home with the Rev. Mariann Lankton officiating. Burial will be at Mount Kenton Cemetery.

Mrs. Turner died at 9:30 a.m. Tuesday, June 3, 2008, at her residence.

She graduated from Paducah Tilghman and held a masters degree from Murray State University. She was an avid gardener, golfer and artist, and loved cooking for her family. Mrs. Turner taught in Paducah city schools for over 28 years. She founded and organized the Hepatitis C support group in Paducah, brought the Duke University Talent Identification Program to Paducah Middle School, and dreamed of one day going to Harrys Bar in Venice, Italy.

Surviving are two daughters, Shawn (Nathan) Rowton and Edyee (Robb) Milford, both of Paducah; one brother, Russell (Jackie) Jones of Paducah; her grandchildren, Ethan, Aleksander, Parker and Davis Rowton, and Addison, Maddie and Skye Milford, all of Paducah; her lifelong friend, Camillah Burnett of Paducah; her ex-husbands, Bill Bowland Jr., Simon Michelson, and Jackie Turner, all of Paducah; and several nieces and nephews.

She was preceded in death by two brothers, Tommy Jones and Vernon Jones. Her parents were Raymond and Viola Jones.

Memorial contributions may be made to St. Jude Children's Research Hospital, 501 St. Jude Place, Memphis, TN 38105.

Condolences may be expressed online at rothandlindseyfh.com.