In Memory
Anita Kolb (Smith)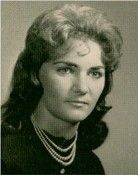 Wednesday, March 23 2011
Anita Kolb Smith, 66, of Paducah passed away at 9 p.m. Friday, March 18, 2011, at Western Baptist Hospital.
Ms. Smith was of the Baptist faith, and was a lifelong resident of Paducah.
Surviving are her mother, Louise Kolb of Paducah; her brother, Robert (Lydia) Kolb of Nashville; one sister, Billie (Ronnie) Stone of Paducah; three nephews, Jason and Casey Kolb and Isaac Stone; and one niece, Celia (Peter) Toon.
She was preceded in death by her father, William Kolb; one sister, Donna Kolb; and one niece, Allison Kolb.
Cremation will be performed by Cremation Society of Paducah, with no public services scheduled.
Lindsey Funeral Home is in charge of arrangements.
You may leave messages of condolence at lindseyfuneral.com.