In Memory
Harry Niestrath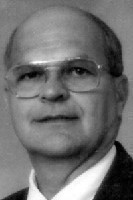 WALDORF, Md.--Services for Harry E. Niestrath, 59, of Waldorf, formerly of Paducah, were conducted Sunday at Good Shepherd United Methodist Church, where he was a member. The Rev. Robert Paulen officiated. Burial was in Arlington National Cemetery.
Mr. Niestrath died Thursday at Washington Hospital Center in Waldorf.

He retired from the U.S. Navy as master chief petty officer after 23 years of service. He was a defense contractor for R.B.C. Inc.

Surviving are his wife, Minda Niestrath; one son, Mark Niestrath of Waldorf; three daughters, Michelle Dockery of Florida and Marie Niestrath and Micah Niestrath, both of Waldorf; one brother, Donald E. Niestrath of Paducah; one sister, Peggy Niestrath Dew of Boaz, Ky.; and one grandchild.

His parents were Edward L. Niestrath and Elsie Mae Jeffords Niestrath.