In Memory
Margaret Peck (Davis, Ireland)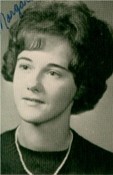 Margaret Peck Davis Ireland

CHANDLER, Ariz.--Margaret Peck Davis Ireland, 57, of Chandler, formerly of Paducah, died at 10:45 p.m. at Desert Samaritan Hospital in Mesa, Ariz.
Mrs. Ireland was a member of First Presbyterian Church in Madisonville, Ky. She had taught elementary school in Paducah City, Fayette County, Hopkins County and Christian County. She graduated from Paducah Tilghman High School, University of Kentucky, and received a master's degree in elementary education from Murray State University.

Surviving are her husband, Jan Ireland of Chandler; one son, James Vance Davis III of Chandler; two brothers, Gary E. Peck of Prescott Valley, Ariz., and Paducah architect, Don O. Peck; four nieces, Donna Burden of La Vergne, Tenn., Kathy Golliher and Karla Helm, both of Fort Myers, Florida, and Kerrie Peck of Paducah; three nephews, Lyndon Peck of Las Vegas, Kevin Peck of Paducah and Clayton Peck of Gilbert, Ariz.; one uncle, J. Lane Peck of Paducah; one aunt, Thelma Steger of Reidland; and several cousins.

She was preceded in death by her first husband, James Vance Davis II; her father, Randell Peck; her mother, Margaret E. Peck; paternal grandparents, Rollie and Della Peck; and maternal grandparents, Nathan and Rosa Springer.

Expressions of sympathy may take the form of contributions to Margaret Peck Davis Ireland Scholarship Fund for needy students at Paducah Tilghman High School and sent to Union Planters Bank, attn.: Marketing Department, P.O. Box 2200, Paducah, KY 42002-2400.