In Memory
Susan Rickman (Wallace)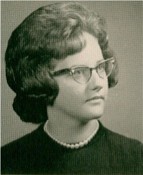 Monday, March 01 2010
Susan Lynn Wallace, 64, of Bruceton, Tenn., formerly of Paducah, died Saturday at Jackson-Madison County General Hospital.
Mrs. Wallace was a licensed practical nurse for Huntingdon Health and Rehabilitation Center. She attended Faith Baptist Church in Hollow Rock.
Surviving are her husband of 40 years, Doug Wallace; one daughter, Heather Jackson of Columbia, S.C.; one son, Rick Wallace of Huntingdon, Tenn.; her mother, Eunice Rickman of Bruceton; one brother, Jim Rickman of Paducah; two grandchildren; and two stepgrandchildren.
She was preceded in death by her father, Floyd Rickman, and one brother.