In Memory
Julia Stewart (Smithson)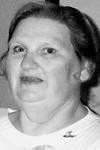 Julia Stewart Smithson, 61, of Paducah died at 2:35 p.m. Sunday, Oct. 7, 2007, at Western Baptist Hospital.
She formerly worked as a nurse in this area and for Parkview Nursing Home.
Surviving are her husband, Danny Smithson; one daughter, Holly Wilkey of Paducah; two sons, Jon Smithson and Anthony Smithson, both of Paducah; one brother, Gerald Stewart Jr. of Paducah; and six grandchildren, Brandon Fritts, Zachery Smithson, Taylor Ballard, Austin Smithson, Madison Smithson and Rachel Wilkey.

Her parents were Gerald and Ethel Mae Stewart.