In Memory
Andree Turner (Hodges)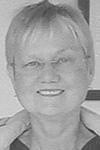 Andree J. Turner-Hodges, 59



Andree J. Turner-Hodges, 59, of Lone Oak died at 5:30 p.m. Monday, March 28, 2005, at her home.
A retired school teacher and homemaker, she was a member of Paducah First Baptist Church and the Paducah Kennel Club.
Surviving are her husband, Ed Hodges; one daughter, Dr. Aimee' Gretchen Kakascik, D.O., of Brandon, Miss.; her mother, Claudia Daigle Turner-Parrott of Lone Oak; a brother, Ray Turner and wife, Pam, of Huntsville, Ala.; two nieces, Lauren and Beverly Turner, both of Huntsville; and a nephew, Patrick Turner III of Huntsville.

She was preceded in death by her father, Dr. Patrick Ray Turner Sr.